Crack md5 hashes. cyclopelabs.com 2019-05-30
Crack md5 hashes
Rating: 4,3/10

1837

reviews
CrackStation
Instead they store hashes of passwords and when authentication takes place, the password is hashes and if the hashes match authentication is successful. If we have tables we can possibly crack any hashes within minutes. This type of attempt will never complete because it will just keep trying higher and higher password lengths. We use advanced computing techniques huge wordlists, bruteforce,. FindMyHash is a python script which takes your target hashes and checks 40 different hash cracking website for results.
Next
Password Hashes Cracker: MD5 LM NTLM SHA1 MYSQL OSX and more
The hash values are indexed so that it is possible to quickly search the database for a given hash. Step 3: Crack That Hash Now that you have a target and a hash, we must crack it to reveal its contents. See for detailed description of each mode. This function is irreversible, you can't obtain the plaintext only from the hash. Today I will teach you how hashes are made and how you can identify and crack them.
Next
cyclopelabs.com
It is now possible to find a md5 collision in a few minutes. And here we go, here is the cracked hash Pretty simple right? Introduction We have all heard of rainbow tables, which will be used to crack passwords and hashes. The only way to decrypt your hash is to compare it with a database using our online decrypter. To just use this mode do the following: john --single hashes-3. It is time consuming to do this kind of computation.
Next
Getting Started Cracking Password Hashes with John the Ripper
If you are building a new website, Sha-256, 512, or other kinds of encryption with salt would be better than md5, or even sha-1. It may even quarantine it. Tools u should have These are the tools u should have inorder to utilize this tutorial. Md5 is no longer considered as a secure way to store passwords. You may ask why md5? Since that date, collisions became easier and easier due to the increasing calculation power. Copy the hash from the database and paste it into this prompt.
Next
Is it possible to crack hash with known salt? If yes how?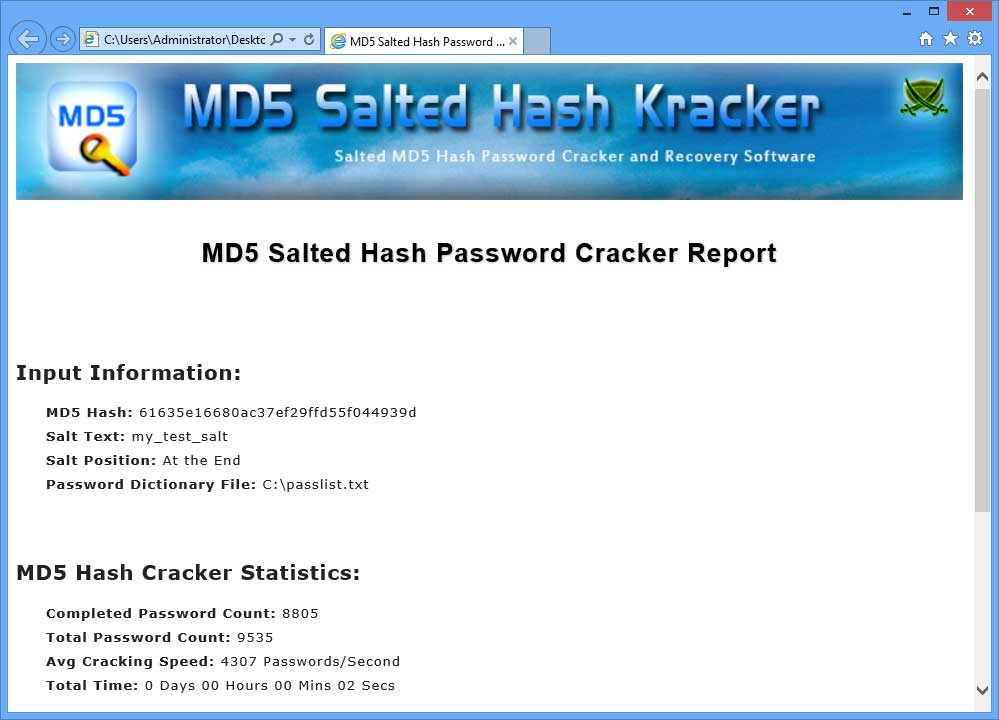 Click ok in the table generator to create the table. After few seconds, the result is shown like this, Code: Hash:286c9c72ce04c511e8b4ed91e1fa9a24 Plain:071678 Hex:303731363738 Hash:1aa4396d4fd1f977d93a8a579d6a4167 Plain:71032 Hex:3731303332 Hash:3941c4358616274ac2436eacf67fae05 Plain:8319 Hex:38333139 Hash:79cef9cc5c842ee39e164009c7554da2 Plain:98304 Hex:3938333034 Hash:315ff5049c0634d7d8195d2a1d1cf0df Plain:021465 Hex:303231343635 Hash:b139e104214a08ae3f2ebcce149cdf6e Plain:1924 Hex:31393234 Hash:2467d3744600858cc9026d5ac6005305 Plain:232323 Hex:32333233323 That is it. There is lot of hashes! A hash is a password that has gone through a certain algorithm that encrypts the password behind a multitude of numbers and letters so that it can be stored but not seen by users. Step 2: Easy Way to Crack Hashes One of my favorite tools that I use to crack hashes is named Findmyhash. So your antivirus will block it. . You could also be creative and split the salt in two, then add a part at the beginning of the password and the other part at the end.
Next
Cracking MD5 hashes using Rainbow Tables
Or to check from another terminal you can run john --status. Assuming the salt is very long, not knowing the salt would make it nearly impossible to crack due to the additional length that the salt adds to the password , but you still have to brute force even if you do know the salt. After installing it too, cain. So if these 40 website fail to crack the hash, FindMyHash does the last attempt by searching the hash on Google and tells you if it finds any useful result. The program should tell you the most probable hash type the input was. So before installing disable the antivirus.
Next
Getting Started Cracking Password Hashes with John the Ripper

I don't really get this!?! If cracked, we notice you via the given email. Without further elaboration preferably including the entropy calculation and a hash function that hasn't been broken yet , I'm afraid this answer is not up to the standard of this site. By the way, if you're looking for a good way to remember very hard-to-break passwords, as a user, you could use sentences instead of a word. If the hash is present in the database, the password can be recovered in a fraction of a second. And it plays a major role in the amount of time needed to create the table. For instance illrememberthispasswordthatsforsure, will be really hard to break through bruteforce and rainbow tables. It can still be used as a checksum to verify data integrity, but only against unintentional corruption.
Next
Cracking MD5 hashes using Rainbow Tables
Here we are going to stick with md5 hashes alone. Rainbow tables are almost useless! If you do something and get caught you are solely responsible for what you have done. U can create your own tables with the character set you need. But once the one time pre-computation is finished, hashes stored in the table can be cracked with much better performance than a brute force cracker. We will get 100% success probability with that. And if u have no idea at all u can make an assumption that the password length may be with 4-10 chars and u can use all char set to create rainbow tables. Each of the 19 files contains thousands of password hashes.
Next
RainbowCrack
ChainLen: It will tel u the success probability. If not, we don't send any email. Once you have it on your Kali desktop or wherever you put it, make sure to give it a. Please note that it is preferable to use random generated strings as salt, if you just use the same string for each password it will be far too easy to break. Step 2: Find Where to Put the Hash Once You've Cracked It In order to not waste our time, we must make sure that once we've cracked this hash, that there is somewhere to put in the password. These tables store a mapping between the hash of a password, and the correct password for that hash. We have been building our hash database since August 2007.
Next
Md5 Decrypt & Encrypt
This greatly reduces the number of possibilities you have to try until you reach the correct string. Copy the md5 alone to test. It's like having your own massive password-cracking cluster - but with immediate results! The cracking will take a little longer than that. RainbowCrack Introduction RainbowCrack is a general propose implementation of Philippe Oechslin's. I then sorted them, and enlarge the final wordlist by creating a script that multiplicated the list to finally lend to a unique and pertinent wordlist. Still if it is a long phrase with many different characters it will take a lot of time.
Next